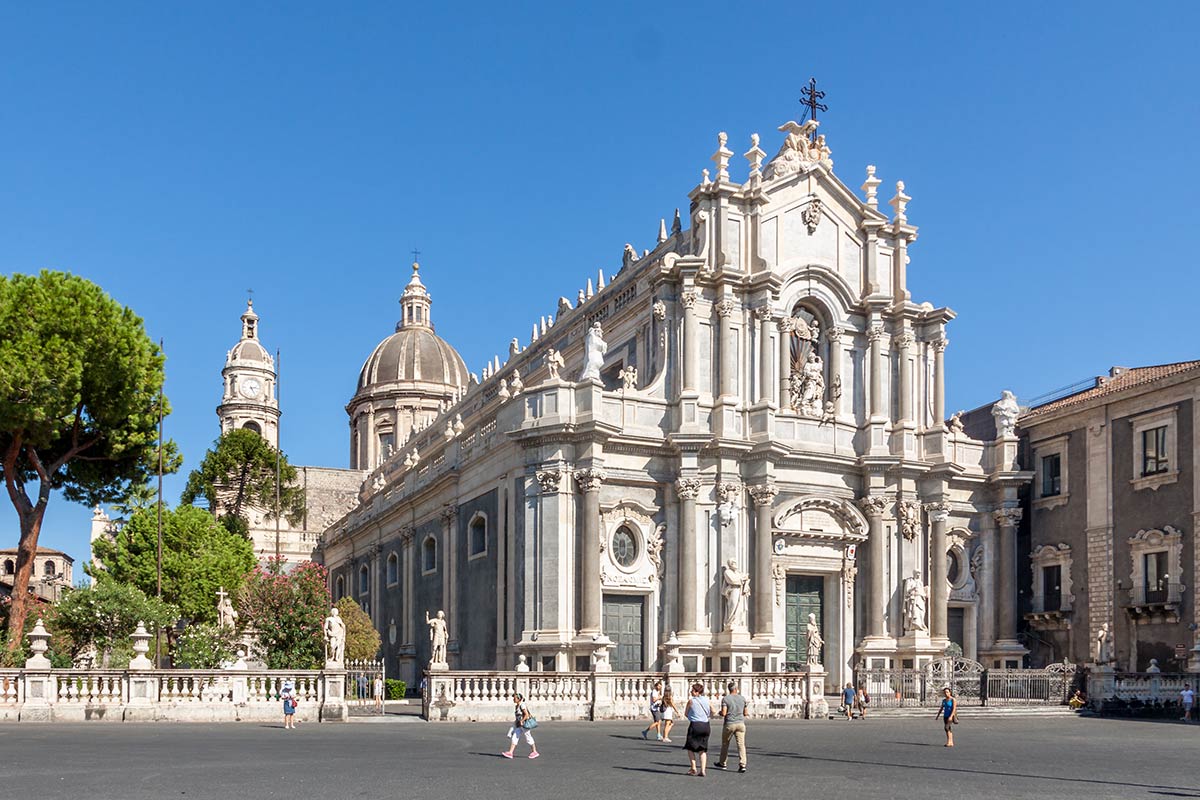 Catania & Etna
Catania is often overlooked by tourists and wedding planners. People land in Catania and often move to what they believe to be more picturesque locations. This is a mistake. I'd recommend anyone to stay in Catania for at least a couple of days as it has lots to offer.
The city itself and the surrounding area is full of architectural treasures such as amphitheaters from the Roman Empire era, Norman castles (one in the cente of Catania and one in Aci Castello – both authorized for civil wedding ceremonies), medieval churches and antique Masserias  (fortified farmhouses in a huge piece of land). All kinds of beautiful and unusual wedding venues.
During an earthquake and Etna eruption at the end of the 17th century, most of the city's architecture was destroyed, so Catanesi (Catania's inhabitants) had to rebuild. They did it using their enormous wealth and according to the fashion trends of the baroque era. Thanks to the earthquake and a volcano eruption, Catania today has one of the most beautiful 'old towns' you will ever see.
In fact, Catania's old town is one of the largest and finest examples of baroque architecture in Italy and is a World Heritage Site protected by Unesco. The palazzos you can find here are as beautiful as the ones you will find in Venice, Rome or other famous Italian cities. This city really rocks.
From most piazzas, streets, and terraces in Catania's center, you can see Mount Etna. Having an active volcano so close to a metropolitan city and an important commercial port had shaped the city itself. There are spots where you can see lava walls from the eruptions, but mostly it has influenced the mentality of the people who live here. Catanesi are usually very open-minded and positive. They try to live their life to the full and enjoy every moment of it in the belief that at any minute we can all die! Rest assured though, that Etna is unlikely to erupt during your stay!
The great thing about having Etna 'behind the corner' is that its ashes make the soil extremely fertile. The local produce from the Catania area is not only very particular in shape and form, like purple cauliflower for example, but it has a higher nutritional value than the same kind of vegetables grown elsewhere. This includes locally grown produce, such as grapes, olives, lemons, oranges, and many other treasures.
From a wedding planner's point of view, Etna and its slopes are a real-life wonderland. Imagine all the antique farmhouses, vineyards, noble villas, manor houses, huge estates (often with their own chapels), olive groves, orange and lemon plantations and you're on your way to dreaming of an idyllic wedding.
The province of Catania is full of unusual, quirky and stunning venues. Some of the old estates still produce wine or olive oil. Some have been turned into luxury, five-star hotels. There are stunning castles and villas that still belong to the nobility. Not many places in the world can offer you a mountain panorama with a sea view. Many buildings in the area have been authorized for civil wedding ceremonies and you can actually have a legal wedding on a volcano 2800 meters high above sea level.
More Info

Panoramic etna terrace

A beautiful and breathtaking view that becomes the background for a new form of hospitality.