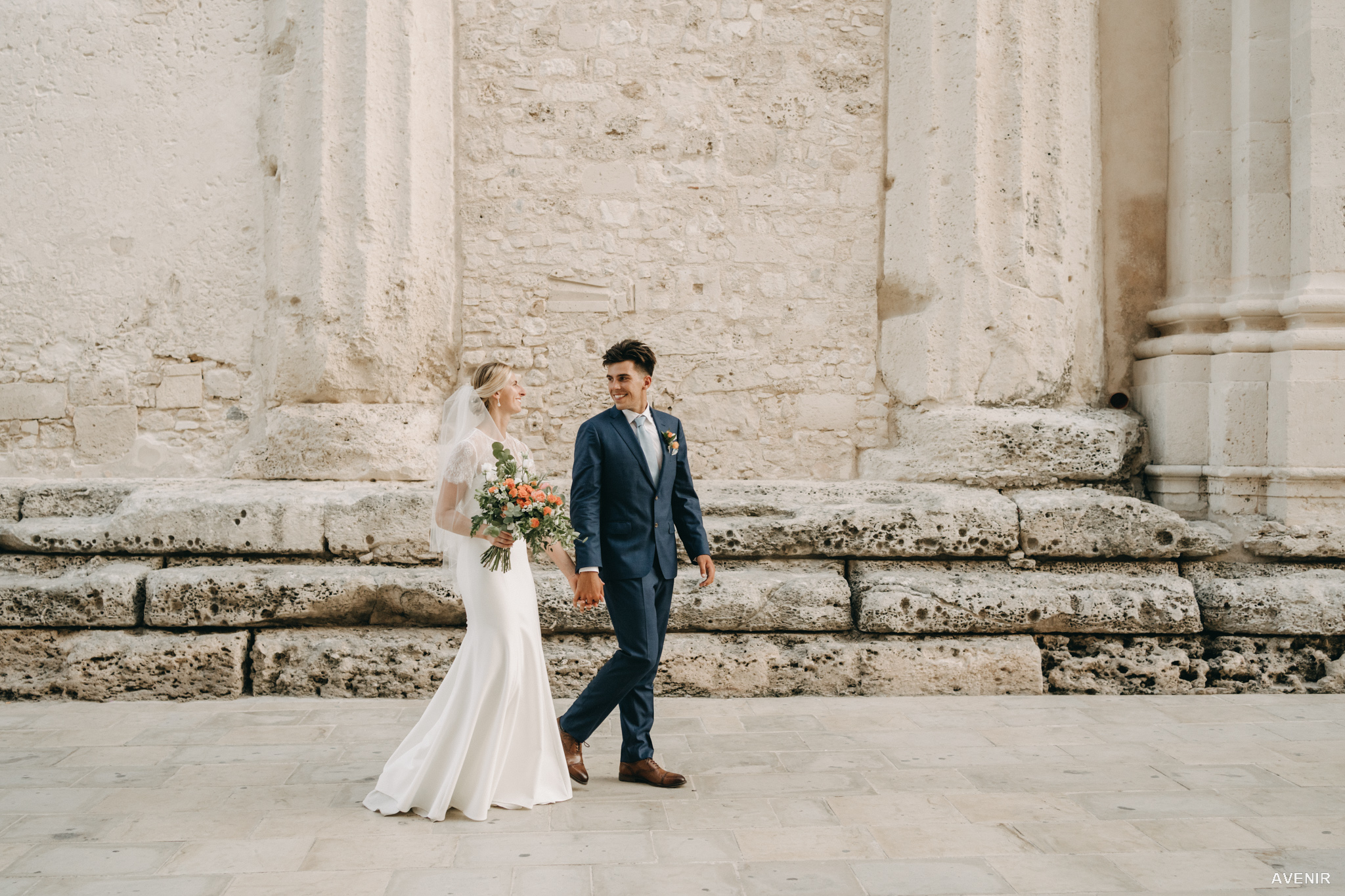 5 steps to Planning your destination wedding in Sicily
Decide on location
There are two international airports in Sicily, one in Catania and one in Palermo. Depending on where you and your guests are coming from, one airport may be services better than another one. For instance, there are daily flights from Dublin to Palermo but only twice a week to Catania. Knowing where to fly makes a good start in venue searching and determines many other factors so it's really important to start with that.
2. Decide on the ceremony
If you are Catholic then Italy is a wedding wonderland for you with all the fabulous churches from all styles and eras. You have got magnificent Cathedrals, tiny village churches, churches with no roof, churches craved in the rock, etc. Regardless of the style and size of your party, there is a church for every need in Sicily. Also, Italy allows concordant weddings which means that a Catholic Church wedding is legally binding so you don't need to have a civil wedding on a separate occasion which is comfortable.
Non-Catholic religious ceremonies such as Jewish, Hindu, Protestant, and all other religious ceremonies are considered symbolic so they can be performed anywhere as they do not hold a legal
Value in Italy.
A civil wedding in Italy for foreign citizens is possible for almost all nationalities. Depending on where you come from (actually which passport you hold) the regulations vary. For European Union citizens, it's quite straightforward, more complicated for the UK Or the US. It can be time-consuming so please allow 9-12 months to obtain the necessary documents.
Some stunning locations are appointed as Casa Comunale which means that you can get legally married there. Many castles, some wineries, tonnaras (usually ancient or medieval buildings where tuna was stored and worked before it was sent to its final destination), and even some villas are Casa Comunale so civil weddings can be performed there. Many locations have this possibility but not all of them so if the civil wedding is an important element for you make sure you inform your planner about it at the very beginning so they can suggest the right venues close to ceremony locations or venues that give you a chance to do all in one place.
Symbolic ceremonies are the ones we love the most and advise clients to go for.
They can be performed anywhere so they don't limit your venue choice.
You can add songs/ poems/ rituals/ your parents speaking or any other personal touch to it. It can be performed by a professional celebrant or a family member och a dear friend.
These are the nicest, the most touching ceremonies you can have and we encourage you to make them super personal and really about you two and your love.
3. Decide on the budget
Sometimes couples decide they want a destination wedding because it will be smaller and therefore less expensive. It's true to a point. Yes, most likely your wedding will be smaller in size but there will be more elements to consider. For instance, no one expects you to book taxis for the guests if you are getting married in your hometown but if you have a destination wedding then it's in good taste to guarantee transfers to the hotels. Same with the day before and the day after, you may have just a small rehearsal dinner for your family if you are getting married at home but once you fly people to another country it's almost expected to host more than one event. As you can see the expenses list could actually get longer for a destination wedding than for one at home.
When you decide to go abroad to get married you should do it for the food, climate, and atmosphere. If you think you will be saving a lot of money you may be disappointed.
Contact us with your ideas and we will
Prepare a cost proposal to give you an idea- free of charge.
4. Choose the right venue
this will set the tone for everything that comes next; the design, logistics, and the nature of the event. Apart from the most obvious things to consider such as accessibility for wheelchairs or elderly people if you have them in your group, the number of bathrooms and their position, plan B in case of rain or extreme humidity. You should consider the timings if you know your guests will want to party late, the number of bedrooms on the side, and the proximity of hotels and villas for those who cannot stay at the venue. Also, if you are getting married in a castle in the middle of nowhere and you expect the guests to stay there for three nights make sure they know about how remote it is and they can prepare (buy extra cigarettes, toiletries etc).
5. Make it personal
The wedding should reflect you two as a couple. If there are things you would expect and they are 'standard' in your countries such as bridal Procession, veil or bouquet throw, smashing the glass, etc. something that is so obvious to you it's not necessarily obvious for your planners and the staff at your destination wedding- at the end of the day we live in different countries and cultures so please let us know about all traditions you want to embrace. We want to include them, we encourage you to add them to the ceremony and wedding reception. Most of the cases we don't know them as they are diverse for each country so please be very vocal about what the traditions are and how we can implement them during the day. It's your day your way- always.