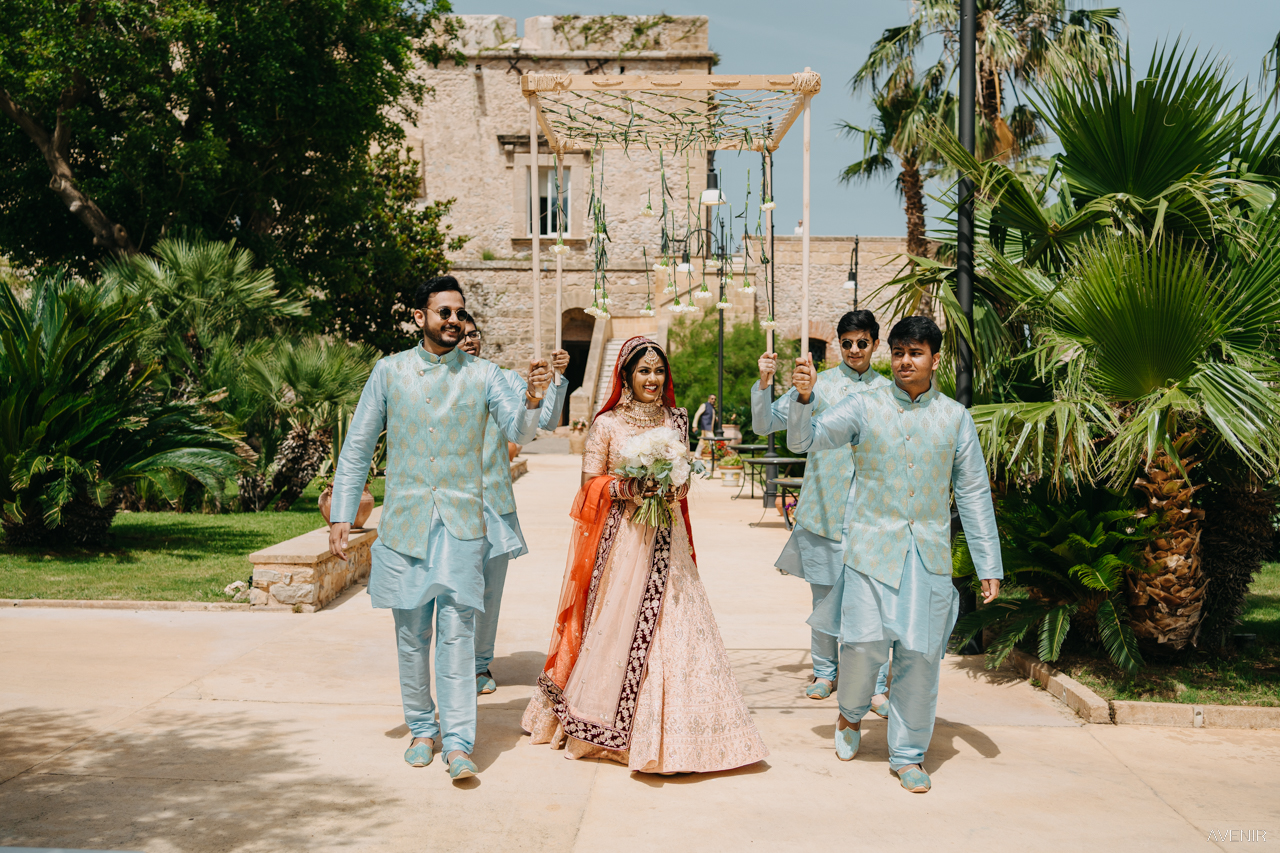 Indian Wedding in Sicily
The Dazzled look on Indian weddings and their rituals in Sicily, Indian wedding venues that can host big numbers and particular requests, Indian and Hindu catering, Mehendi artist, and a Dohl Drummer. Everything you need to have a successful and fun Indian wedding in Sicily, Italy!
If you are an Indian bride who just got engaged and is looking for the right place to say I do, keep reading. This article is for you. 
Indian weddings are super intense! Their planning process is very detailed and time-consuming and you need very particular suppliers in terms of food and music. They usually take multiple days and there are multiple events each day! Very often in different locations scattered around the main- wedding ceremony venue.  Indian weddings are also super colorful, full of traditions, rituals, and elements that are not present at all or not so important to couples from other parts of the world. Baraat, Swagat, haldi, Sangeet, Kanyaaagman- the arrival of the bride, exchange of garlands Many experienced planners have never heard those terms. That is why, if choosing Italy as a destination for your Indian wedding, you need to make sure you rely on people who have experience with Indian and Sikh weddings and celebrations. Only during this season, we have fully planned two big Indian weddings in Sicily, one in Palermo and one near Taormina. We have a team of local professionals who specialize in Indian weddings and know all the rules of Indian marriages. We have artists from all over Italy willing to come and make your celebrations even more exciting! 
Our Indian couples are guaranteed the authenticity and superb quality of the food, the entertainment, and of the sacredness of the ceremony with full respect for all of the meaningful Indian traditions.
Indian Wedding the Dazzled Way is a mixture of a joyful  Sicilian vibe with the magnitude of traditional Indian celebrations. Where the couple and their guests can experience a destination wedding in Sicily that will remain in their hearts for a lifetime. 
We have the most perfect venues for Indian weddings and excellent suppliers to make sure you get the best value for your money.
Contact us on be@dazzled.it and let us Dazzle you!