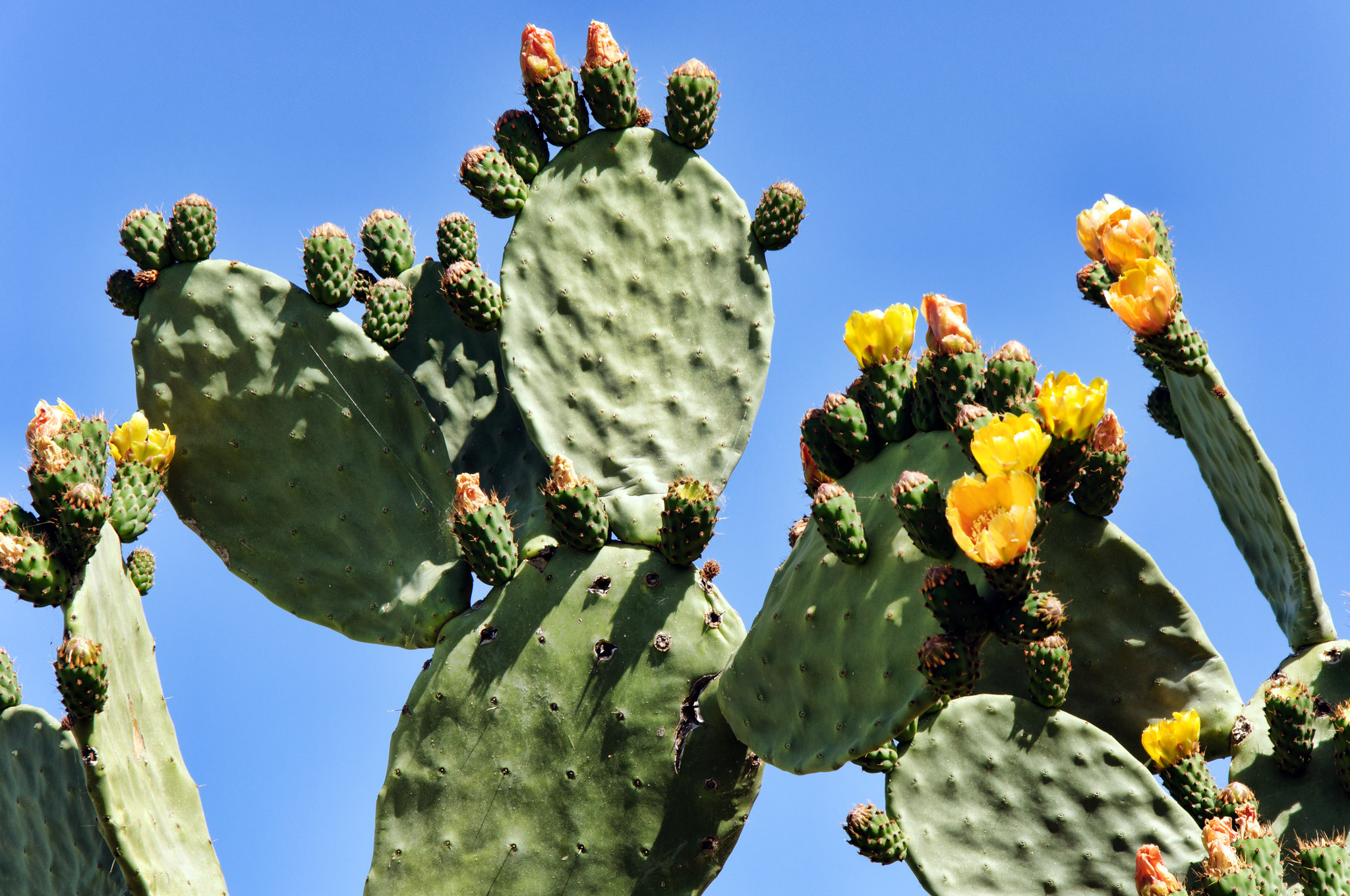 Morning Hike or Fun Evening in Castelmola
→ 𝑇𝑎𝑜𝑟𝑚𝑖𝑛𝑎

If you stay in Taormina, a morning hike to Castelmola could be an ideal beginning to a perfect day. It consists of getting up early, around 7.30 am, putting on your trainers and workout clothes. The next step would be to head out in a silent morning in Taormina still feeling a slight breeze from the night before and listening to the birds tweet and sing.

The first part of the hike is to climb the stairs that lead up to the Madonna Della Rocca Church. The stairs start on Via Circonvallazione, just beside the Protos Gym (google coordinates: 37.852887,15.286321 ). The stairs are comfortable walking up, but still watch your feet, because some steps can be broken or have cracks. The stairs pass through an antique property and are surrounded by typical Sicilian green vegetation. If the morning is not too hot, you can enjoy the beautiful views and the stunning nature when walking up.

After arriving at the church, take a moment to relax and enjoy the breathtaking views, maybe you can figure out where you are lodging. The church may be closed at this time in the morning, but walking back it'll probably be open. It is definitely a church to see and you really don't want to miss it! It is built into the rock and it´s located 398 meters above sea level.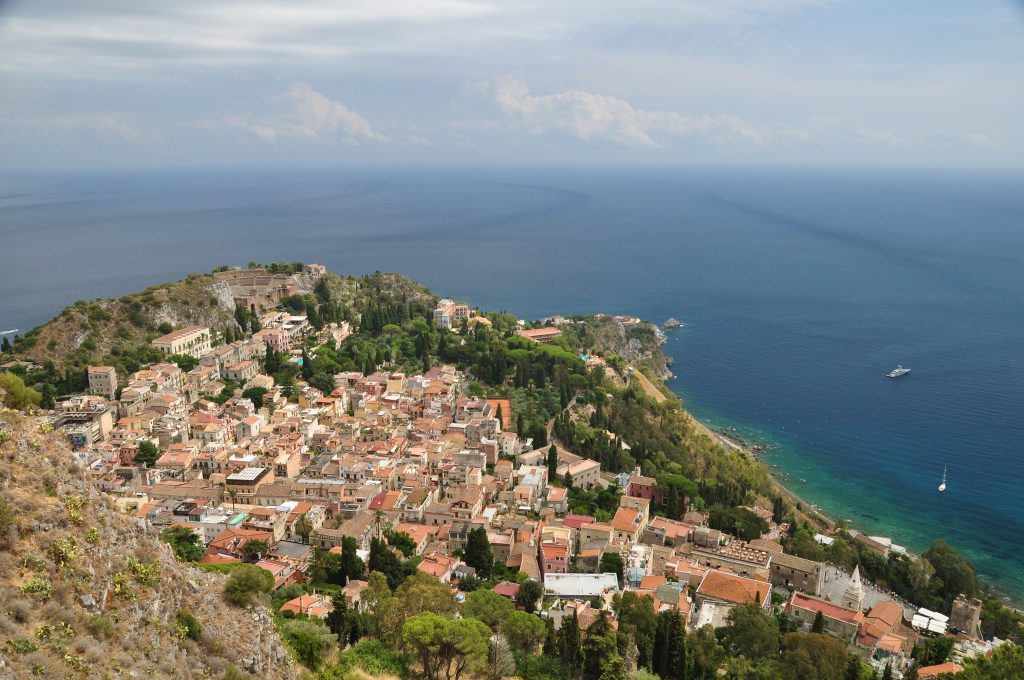 Continuing the path to Castelmola, you should follow the road going upwards, passing some hotels and apartments on the way and you will see a sign on the left-hand side indicating Castelmola – walking path.

The last part is a steep road reaching the small town. On the way, you pass amazing viewing points, where you can take a break and just enjoy the views. It's a great opportunity for taking some gorgeous photos.

Just a few more meters and you arrive in Castelmola's main square, which is usually empty in the early morning.

Castelmola is a medieval town and it's architecture combined with the altitude creates a one of a kind feeling. It's like going back in time. On the main square, you will find the oldest bar in Castelmola – Bar San Giorgio. We highly recommend having breakfast there! Don't expect eggs and sausage though! You should try Sicilian breakfast – granita, which is fresh-pressed fruit, sugar, and ice. It may not sound exotic, but trust me, it is a must-try in Sicily and is very refreshing after your walk.

After breakfast, before heading down again we recommend a stroll into town. If you are not too tired, then climbing another set of stairs to the ruins of a Norman Castle is a great idea. We do warn you, it is high, but the views are definitely worth it.

If you've had enough of climbing, just have a stroll around the town. You will fall in love with those tiny streets and liquor shops. Don't leave Castelmola without a bottle of almond wine. It's a traditional delicacy and it's been produced there for centuries.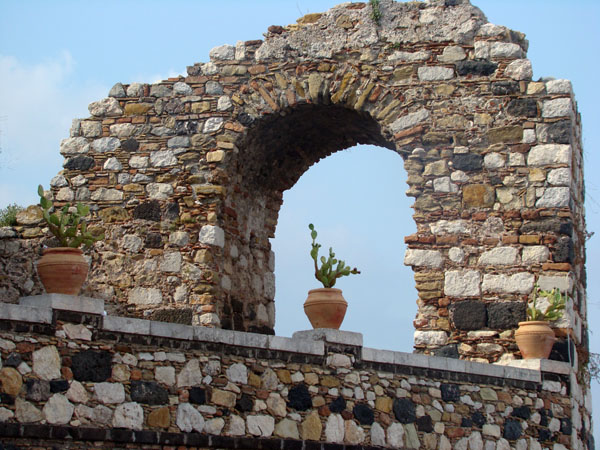 Castelmola Evenings

If you prefer night time adventures, we recommend that you take a taxi to Castelmola. Those stairs in the dark can be dangerous beneath your feet.

In town hit the Turrisi Bar. it's a quirky place that has been in the Turrisi family for generations and they have their own almond wine production. While at this bar watch where you put your hands and feet. The place is also called "The Penis Bar". Yes, you read it right. Everything from the door handle to the ceramic floor design, armrests to wine bottles have penis shapes or designs… and wait until you read the menu! It's a fun and great place for a drink before dinner. You can sit inside and enjoy the decor or outside, in one of three terraces and enjoy the stunning view on the square and church.

After drinks and great laughs, (it's so funny watching people's faces when they enter the bar) head down to the square and take a table at Ciccinos. Simple and easy and the greatest pizza in Castelmola. Not only the best pizza! The atmosphere is so laid back, happy, and fun. If you are lucky, you might see the owner take out his guitar and start playing and singing Sicilian songs.

I also love the fact that the pizza maker is the owner's wife and she is Swedish. It's always nice to meet people from your own country when living abroad. They have been living in Castelmola for more than 40 years which makes them a part of the history. And their pizza is delicious.

The best evenings to enjoy Castelmola are midweek, as during the weekend it gets busy everywhere.

Let me tell you a funny story related to this place. I was pregnant and it was Saturday and I wanted Ciccino's pizza. Well, let me tell you my husband's exact words "Even if this would be the world's best restaurant I would never wait two hours and here we are waiting two hours for Chiccinos pizza! I hope you know that I love you" Hahaha poor man! I felt sorry for him, I must admit.

Note to self, and for you for the future: if you are going to Castelmola over the weekend and plan to dine there, book a table in advance!

It is really worth visiting Castelmola for a relaxing night, just hanging and doing something different. It truly is a dazzling experience with new tastes, some adventures and lovely people that will make you go to bed with a big smile on your face.