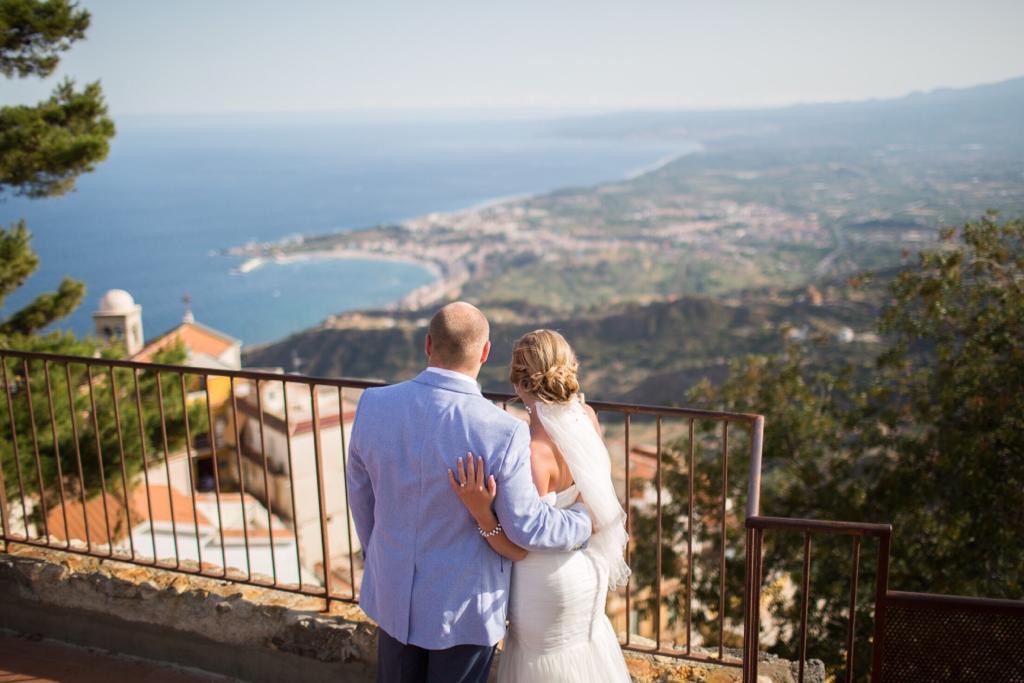 5 Reasons to get married in Castelmola
Destination weddings are all about location. Luckily, Sicily is full of charming places that will
provide an amazing scenery for your Big Day. The most popular wedding destination in Sicily is
Taormina. Not many people know that literally a few kilometers up the hill there is another treasure- Castelmola. Castelmola is one of those places where time has stopped many years ago.
We wrote more about visiting Castelmola in our last post. Today we focus on weddings. What is so special about this town that makes it such a perfect wedding destination?

5 reasons why you should get married in Castelmola
The views- absolutely stunning panorama. An explosion of colours: green hills, red roofs
, and yellow/beige houses below then green again and eventually turquoise of the ionic sea.
Simply stunning!
Intimate atmosphere. This place has only 1,100 inhabitants which means everyone knows each other. People are very friendly and helpful. Even if you are there for a
the weekend they will make you feel at home.
Idyllic Italian Village scenery. With those tiny streets and norman architecture any photo taken in Castelmola is a postcard. Imagine your wedding photos taken against those backdrops.
Castle ruins as a civil ceremony venue. Yes, you read correctly. In Castelmola you can get
legally married in a beautiful outdoor ceremony, on a terrace with views over Etna or
climb one set of stairs more and say 'I do ' in ruins of Norman castle overlooking
Taormina below and the sea.
We've got it planned for you! Have a look at our mood board and sample plan below.
Basic wedding sample plan in Castelmola:
● A ceremony at the castle fee
● Legal Assistance and interpreter services
● Ceremony decor: metal or wooden arch, flowers and fabrics for the arch, ceremony table with decor, bride & groom chairs with decor, guests chairs hire and delivery, two flower compositions at the entrance, delivery & set up fee
● Bride's bouquet & button for the groom
● Basket with confetti cones
● Ceremony music (violin or guitar or harp)
● Cocktail reception for 50 with prosecco and canapes
● Four-course dinner served at the table
● Personalized wedding cake
● Planning and coordination fee
● Concierge service for the couple and the guests during your stay