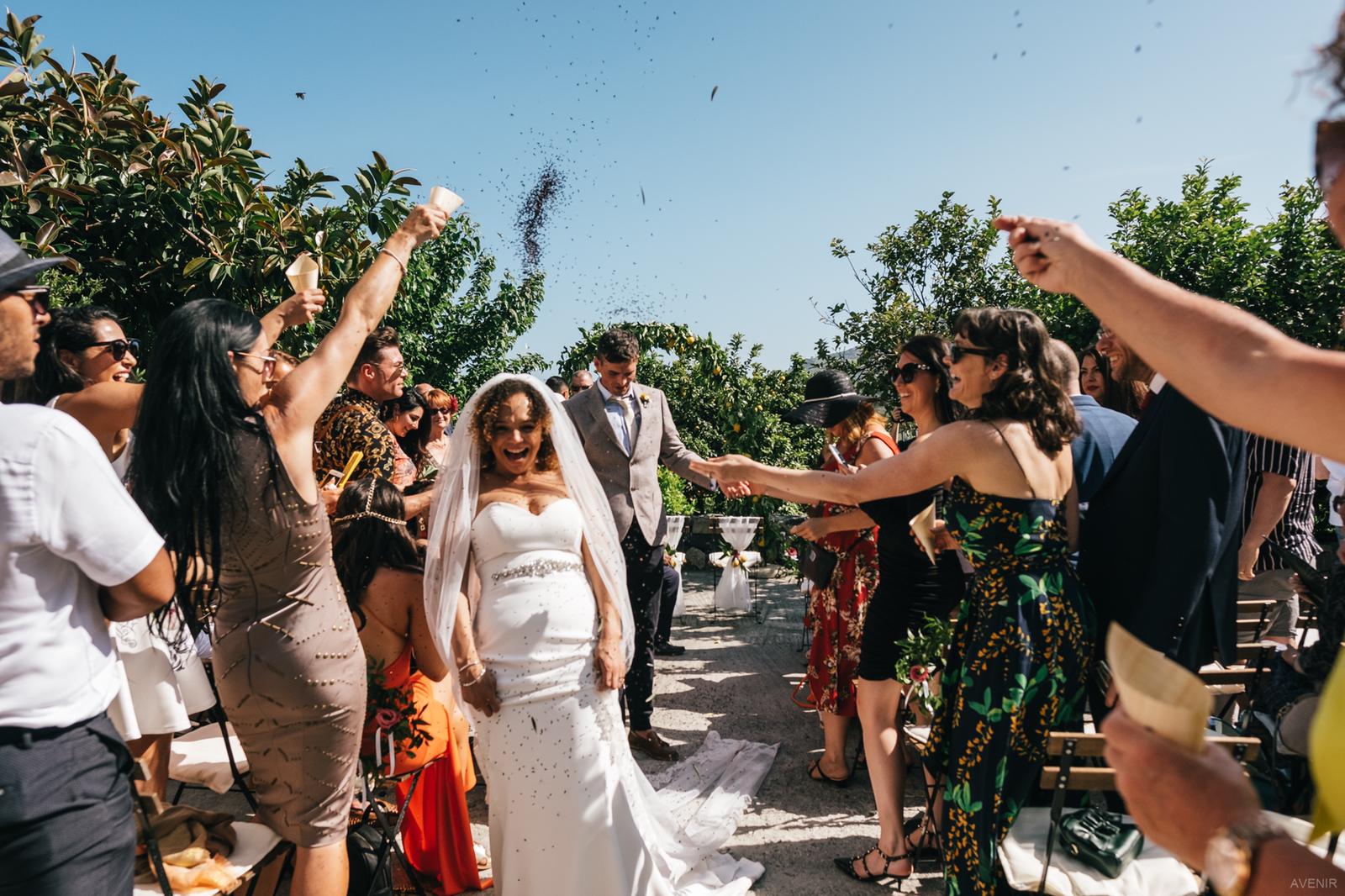 Average size wedding in Sicily – Your day your way, part 3
Venues in Sicily are suited for all size weddings and we can guarantee you that regardless of the numbers, Sicily has everything a couple could be dreaming of.
Jewish, Hindu, or Sikh weddings in Sicily are truly spectacular. Usually, they are bigger than the average European or American wedding. On the <VENUES> section on our website, you can find more than 50 wedding reception venues that can be filtered by size, style, or location so you can easily find what you are looking for.
Previously we have talked about elopements and small, intimate weddings but according to the data the average number of guests attending a destination wedding is 85. It is slightly less than a home wedding (100-120 guests on average) but still quite a number.
Although a destination wedding with almost a hundred guests may seem complicated to orchestrate at first, with the right approach, the planning process will turn into a wonderful adventure. However, there are few rules you need to remember about when planning a destination wedding in Europe for bigger numbers.
Since we are specialists in Sicily, Italy we will focus on this beautiful island in particular.
The key to a perfect destination wedding is logistics.
Rule number 1: not be too distant from the airport.
The last thing you want is to have tired guests arriving at the reception. Remember that some of them will travel only for the weekend so make it as easy as possible.
As a general rule, the wedding reception venue should not be more than a 1-hour drive away from an international airport (max 90 min). If the majority of the guests are arriving on the same date it is worth thinking about arranging transportation for them.
Wedding on Eolian or Aegadi Islands (Minor Islands surrounding Sicily).
If you are thinking of having a wedding on one of the minor islands it is highly recommended to arrange a boat to take all guests from the harbor in Sicily.
For Salina, Filicudi, Vulcano, Alicudi, Stromboli, or Lipari known as Eolian Islands you will be leaving from the port of Milazzo.
For Favignana, Levanzo, or Marettimo you will be leaving from Trapani or Marsala.
Rule number 2: On-site bedrooms
Most of the wedding venues would have at least a few bedrooms on site. Those are super useful and it's worth getting them. The best bedroom or a suite for the bride to get ready for the day and some additional rooms for the bridal party. We cannot stress enough how important it is for your comfort. Having all your things there, being able to just go up for a few minutes to re-do your makeup (hopefully you won't have to), or to steal a few moments by yourself with your new hubby. Your private room at the reception venue really is a life-changer. Even if you are not planning to stay thereafter, it's still worth having access to your own private space during the event.
Rule number 3. Accommodation nearby for other guests
Your guests have already taken holidays and got on the plane to be there with you. Make it is as easy as possible. Don't be tempted by a stunning location in the middle of nowhere if there are no accommodation options for other guests. Try to always arrange cars taking guests back to their hotels, regardless of the distance.
American, English, or Irish weddings are usually super fun parties where guests enjoy dancing and drinking and it's easy to let yourself go. When choosing the venue make sure they are fine with music after midnight (make sure you have agreed on finishing time before to avoid being deluded on the day) or if there is a dedicated area where you can finish your drinks before going to bed. You don't want anyone leaving your wedding thinking 'is there another party nearby?
For comfort, privacy, and logistics reasons we always recommend hiring all the bedrooms at the venue and having them in exclusive use when possible.
Rule number 5: Keep it simple
It's most convenient to have all elements of the wedding in one location. If your venue doesn't allow a civil ceremony or if you are already legally married, have a symbolic ceremony. Moving guests from the ceremony location to the reception venue will take up your precious time on the day and can be costly depending on the situation. Wouldn't you rather spend on flowers, drinks, or guest favors? Something guests would enjoy more than being locked in a bus on a hot, summer day.
If you are getting married in the church and the mass is an important element for you or a legal civil ceremony, make sure to arrange refreshments before and after the ceremony. A quick toast just after the ceremony will keep everyone in a celebratory atmosphere and give them a little break before the reception itself. Make sure you check with the Church Authorities or the municipality before you start pouring champagne outside of the temple though.
Following those simple rules will simplify your task significantly of organizing a memorable wedding for all your friends and family abroad. Logistics are the key to a perfect wedding abroad. If you are thinking about Sicily, drop a line to the experts be@dazzled.it or fill up the contact form on our website: CLICK HERE
See you soon in Sicily x