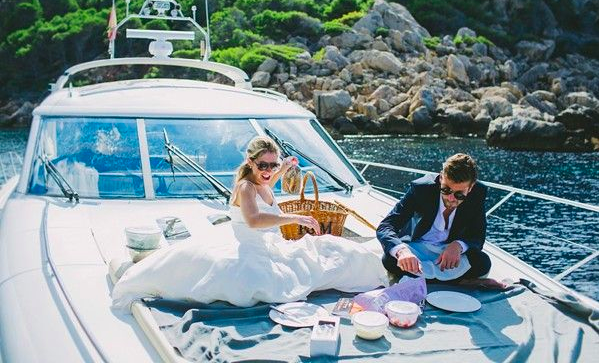 Intimate Wedding in Sicily – Your Day Your Way, Part 2
Intimate wedding, micro wedding, minimony – the (not so new) way of reducing the number of your wedding guests.
Small weddings are super cute and very intimate. We see it over and over again. The couples surrounded only by their closest friends and family are more relaxed on the day and less worried and stressed during the planning process.
By small-intimate-micro-wedding, we mean a wedding with less than 30 guests. Such a small party can fit, well almost all of the different types of locations, restaurants, villas, vineyards terraces on the sea, etc. You can have your wedding reception almost anywhere.
With regards to the ceremony, everything stays the same, and all documents need to be prepared in advance. Unless you are dreaming about a symbolic ceremony with a gorgeous backdrop, in that case, things got even easier. You can get married literally anywhere.
Small wedding preferring couples are usually looking for a villa or small hotel so they can have all their guests with them at all times. Usually, all the participants stay at the same location or very near to where the wedding takes place.
More adventurous couples can go for a yacht wedding. As the name suggests this is a wedding performed on the yacht with very few participants. First, the captain performs a symbolic ceremony, and straight after you can enjoy your tiny party with a glass of ice-cold prosecco and live music. A tiny wedding on a yacht is a relatively new thing, but looking at our current reality it will only become more popular. In Sicily, there are few harbors from which your wedding yacht could depart. We at Dazzled strongly recommend a departure from or Giardini Naxos, Porto rosa, or Riposto, a wedding on a yacht followed by a minimoon on one of the most romantic eolian islands. Contact #teamdazzled for more info.
Nowadays many couples prefer to have a wedding weekend away with their friends and families rather than having a big wedding especially now with covid invading our lives. There are a few very good reasons why to get married with an intimate crowd of people is that you can celebrate all the traditions and do all the 'old school rituals' and still enjoy them, but… you don't need a ballroom for it. Smaller weddings are very similar to traditional ones just on a smaller scale.
You still walk the aisle looking at the people you love, you still get to do the first dance and cake cutting. You can even toss the bouquet. Micro wedding held in your favorite destination is a great combination between an elopement, a regular wedding and a honeymoon- you get the sweetest parts of all. Click here for a selection of small venues in Sicily https://www.dazzled.it/venues?filter_size=intimate-2-20