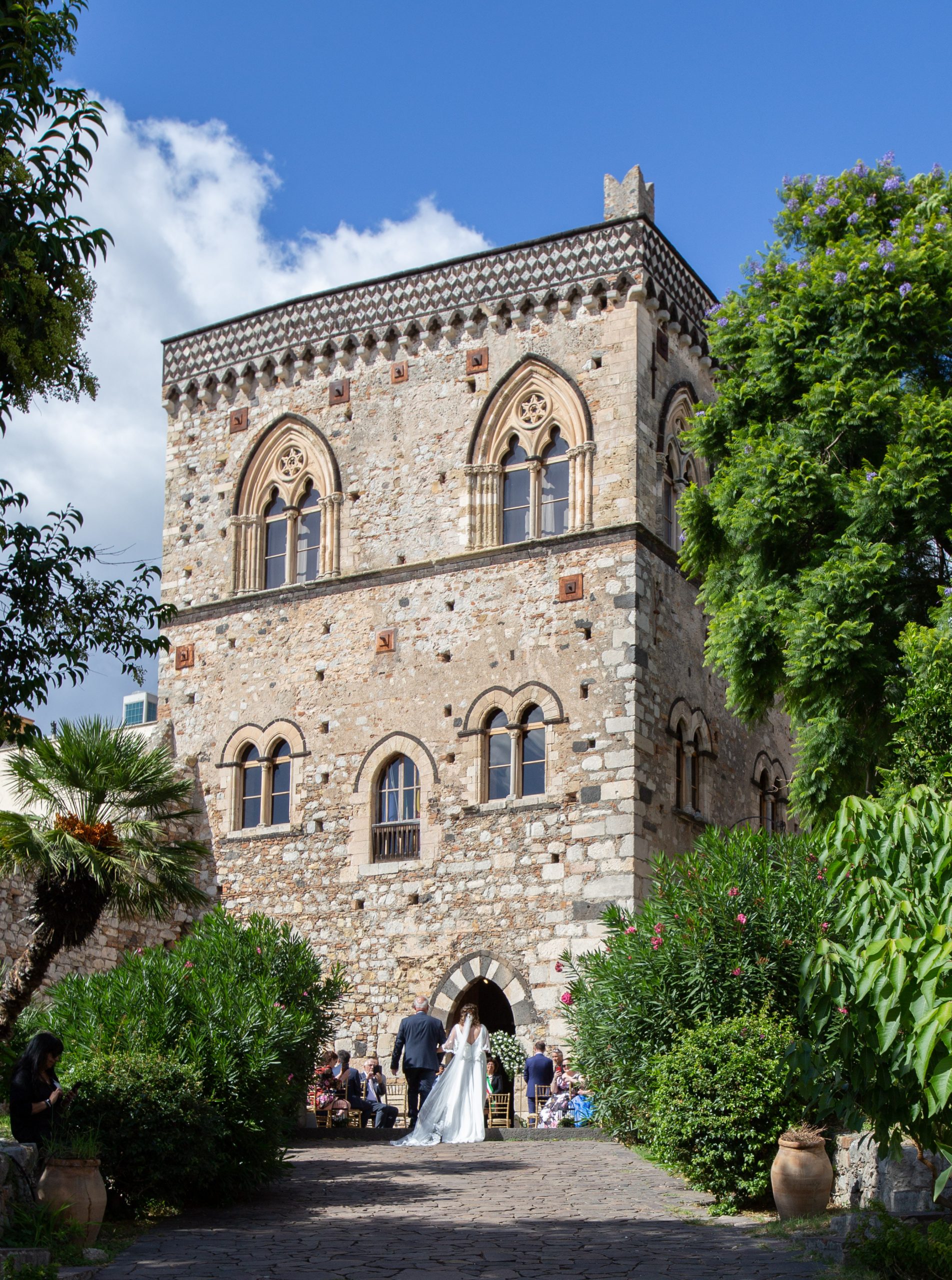 TAORMINA – The most popular wedding destination in Sicily
A wedding in Taormina is both chic and glamorous, it's no wonder why so many destination wedding brides choose Taormina as their dream wedding location. Taormina definitely has it all.
It combines the charm of a small Italian town with tiny streets, with historical importance (Greek Amphitheatre right in the center) and with unparalleled views of the bay and Mount Etna. Add fabulous food and fantastic locations and you have the recipe for a perfect destination wedding for you and an enjoyable, fun-filled weekend for your guests.
We at Dazzled absolutely love Taormina and visit the town very often, not only for work but also for recreation. Villa Comunale- Taormina's city park located just meters away from Belmond Grand Hotel Timeo is a true gem and it's often used as a location for photoshoots but also all kinds of TV and film productions.
IX April Square (Piazza IX Aprile) with San Giovanni's church on one side of it and the stunning panorama on the other has such a Mediterranean paradise atmosphere that once you arrive you don't want to go anywhere else.
The main street, Corso Umberto is filled with tiny cafes, bars, and restaurants where fashionable and glamorous Taorminesi mix with happy – although sunburned – tourists. This place is pure magic. It's cosmopolitan, it's luxurious and it's a place to be seen.
Saying that, as wedding planners, we love Taormina not only for its vibe. We love it also for its venues. Taormina has a solution for every style or size party. For those who want to tie the knot in a civil ceremony, there is a wonderful 14th-century castle which used to be a part of medieval Taormina's fortifications. Couples have a choice to say their vows inside, in a gothic hall or outside, in the garden with Palazzo Duchi di Santo Stefano as the background.
This is the only place in Taormina where civil weddings can be celebrated. Contact the Dazzled team for more info & pricing.
https://www.dazzled.it/contact-us
Catholic couples wanting to get married in Taormina are spoiled for choice. There are plenty of beautiful churches for catholic weddings. San Giovanni's Church is beautiful both inside and outside. Also, it is situated right on Corso Umberto and it has a square right in front with one of the best panoramic views you'll ever see in your life.
Another favorite is the Church of Madonna Della Rocca. This one is not so easy to get to as you have to leave Taormina town and drive towards Castelmola, but it's so worth it. It's a tiny church literally carved into the rock.
For large weddings, however, we recommend the main church in Duomo Square. It's a medieval Basilica built in the 13th century, in early Gothic style with heavy stone walls. On the outside, it looks more like a fortress than a church but inside it's beautifully decorated.
Whichever size or style wedding you are planning, Taormina has a solution for you. From elopements, micro weddings to grand affairs, there is a location for every desire.
Contact us @ Dazzled to discuss your dream wedding and we will make it come true!
https://www.dazzled.it/contact-us