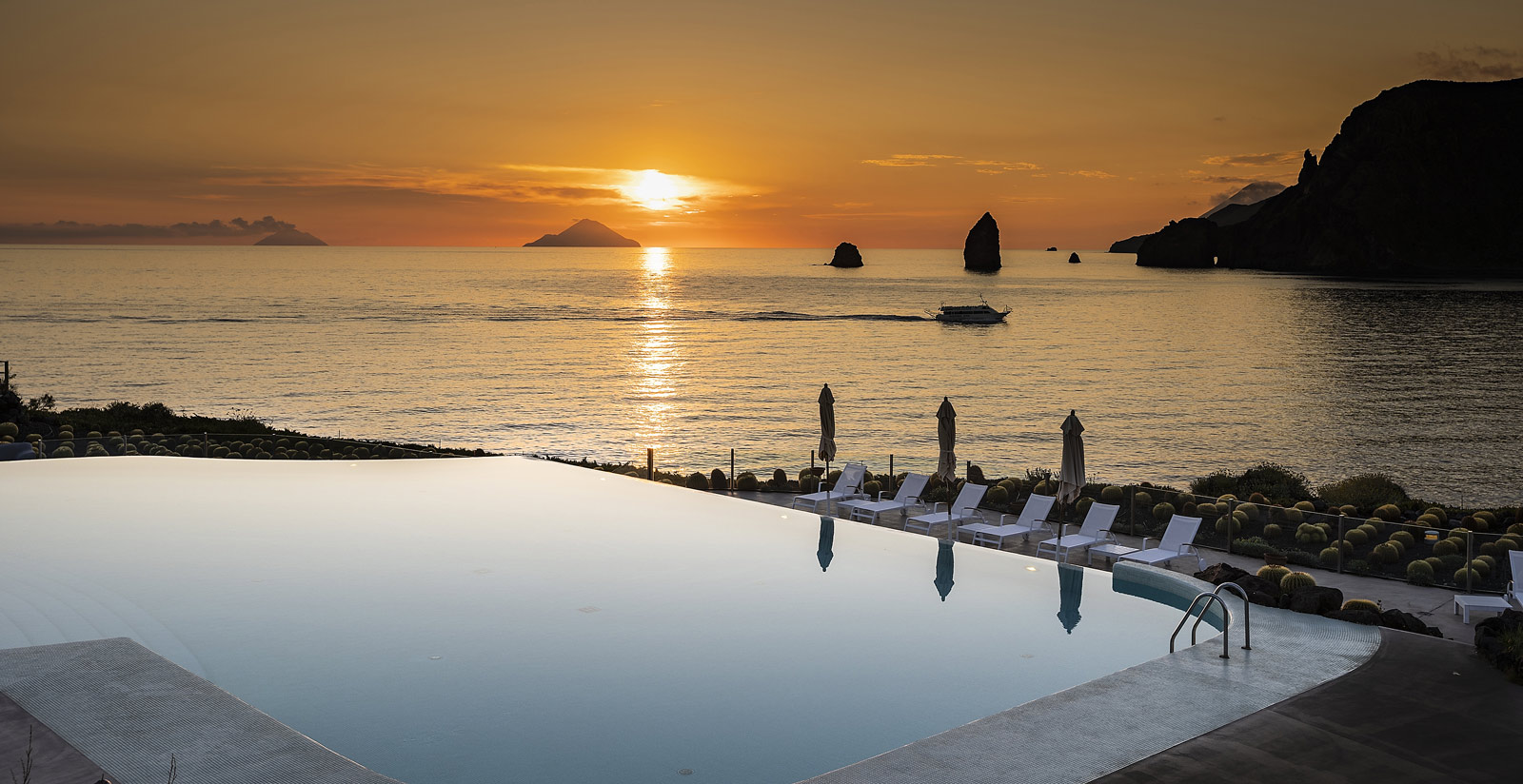 Therasia – Eolian Island wedding dream
I'm writing this post in a mist of memories that are soothing my soul. I have spent a weekend in a place of such beauty and charm that it seemed unreal.

Therasia Resort is a fairly new addition to Worlds Luxury Hotels Collection. It's located on the Island Vulcano, the second largest on the archipelago called the Aeolian Islands or more romantically, in Italian 'Le Eolie'. Le Eolie are proof that God exists. Really!
This perfection of contrasts between green hills, white rocks and turquoise waters was surely created by a divine hand. All of the islands are stunning, each of them different. Together they form something out of this world. I felt like I had died and gone to heaven.

The whole archipelago is still relatively wild with very few hotels. You will not find huge resorts here, square in form with several floors. Tourists coming to the Aeolian Islands can rent a small white house with a garden full of succulents and colourful tropical flowers, or those who crave luxury have just two options – Hotel Raya in Panarea or the stunning, marvellous, one of a kind Therasia Resort.

I was fortunate to stay at the Therasia Resort for two nights, but two weeks or even two months would not be enough. The beauty of this place, tranquillity and the atmosphere of understated luxury makes you feel super relaxed but also spoiled and very, very looked after. Everything about this place was fabulous. Helpful and smiling staff with a nothing-is-a-problem attitude. The bedrooms that are simple but super comfortable, balconies and terraces with unparalleled views.
Then there's the food… oh my God, the food! For those who appreciate Mediterranean fish and seafood, there is no better place to be.


Before I arrived, just by looking at the pictures I knew this is a place for a dream wedding. Watching drone videos my mind would wander off to that moment where the bride and groom are coming down wide stairs carved in rock to join their loved ones in one of the Most Beautiful Moments a person can live, followed by sunset aperitifs on Therasia's terrace.

Once I arrived, I was welcomed by two genuinely lovely people, the event manager and the hotel director. They took me on a tour and showed me all the spaces this resort has to offer. Each space different, and each more beautiful and impressive than the last and suitable for small affairs up to a hotel buyout with parties for 200 guests.
Every wedding or event hosted at Therasia Resort will be a great success! How do I know it? Because of the dedication of the personnel, their love for this place and the extreme attention to detail it´s seen in every aspect of your stay.

Dedicated to hosting only one event a day, despite the resort's capacity to hold even two of three as there are so many areas, the staff are assured to give you all the attention you need.

From a professional point of view, for a dream island wedding, this place would be perfect for a large party and exclusively hired. There are 85 bedrooms so even with 150 guests you should be covered. An example of a special event would be:


The guests arrive together on a ferry. From the harbour to Therasia Resort they will be transferred by Therasia Resort shuttle buses.
Once they arrive, each guest is assigned their room assigned and they go to refresh. In the meantime, waiters downstairs in the main terrace – Terrazza Archipelago – prepare amazing food for a cocktail reception.

The resort has its own vegetable garden and most of the ingredients they use are the ones they grow. Sun-dried tomatoes were my favourite!

The first evening of this Aeolian dream I imagine with a cocktail reception at sunset. A glass of Sicilian rose and canapés prepares with locally grown, zero km vegetables accompanied by a DJ and a Sax… just to get in the island life mood.

The next morning and early afternoon guests can enjoy the island or just stay by the pool and relax before the big party.

From Therasia's hill, you can watch and enjoy the most stunning sunsets. You literally see the sun sink in the sea between the islands with stunning pink skies. It's a true and unique spectacle of nature and I can think of nothing more romantic than a ceremony with this view.
The wedding here starts early enough, let's say about 6 pm, so after an hour-long drinks reception, the guests will move to the ceremony area – a beautiful lawn with the succulents and rocks, making it even more charming. And all accessible from the restaurant level or from the entrance level by wide stairs caved in rock for an unforgettable and romantic bridal entrance.

If you wish, for an even more elegant entrance, you could even add red carpet and flowers. Even without this, Therasia Resort is simply stunning just as it is. Lights and candles are all you need here.
After the ceremony, you could either move to a beautifully decorated exotic gazebo where you can enjoy the air conditioning or, if you don't mind the climate, eat under the stars with gorgeous illuminated Aeolian island archipelago as the background. Really, here nature outstrips the talents of even the most sumptuous event stylist.

Having Therasia exclusively means you don't need to worry about disturbing other guests, so you can dance until the early morning hours.

You do need to wake up for a brunch though! You don't want to miss this. Tasting the resort's luxury breakfast by the pool will make any tiredness or hungover go away immediately.

The perfect finish to your Aeolian Island wedding dream at Therasia Resort is combining the healthy brunch with a swim in the infinity pool overlooking the islands. I don't think anyone would want to leave this place, but if they do there is a shuttle waiting to take them to the harbour and back to reality.