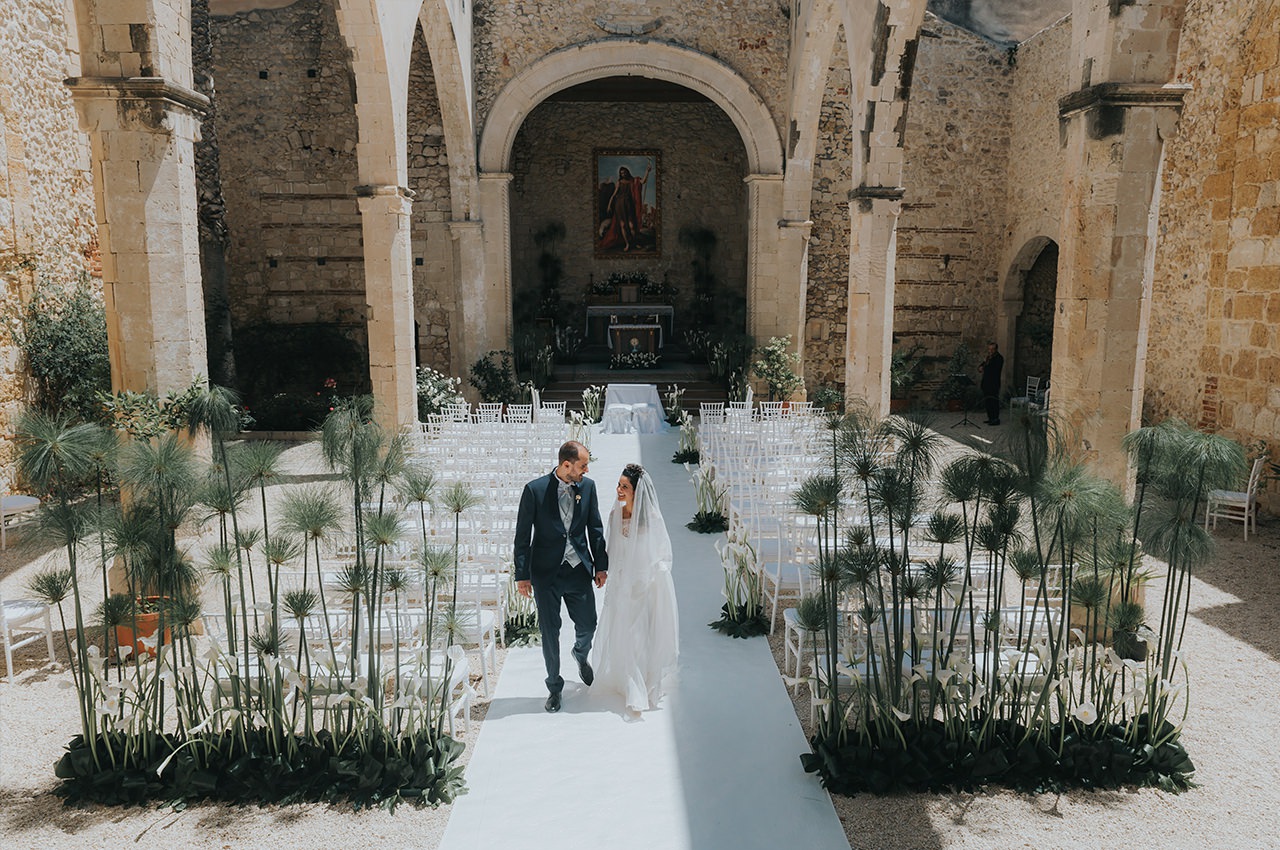 Top Churches in Sicily
Team dazzled gives you an overview of some of the most beautiful and unique churches in Sicily.
Catholic church weddings are the only religious ceremonies recognised by Italian Law. What it means is that your romantic ceremony in a stunning church has a real-legal value, exactly as if it was performed in a town hall. This phenomena is called Concordat Marriage and it is allowed and performed in a few countries of the EU. Apart from Italy, you can get legally married in the church in Poland, Malta and Slovakia.
Church weddings are slightly more complicated to plan than civil weddings. They require more preparations and often a trip to your hometown. A civil wedding can be planned even last minute, but a catholic wedding requires at least 3 months preparations before you can take your vows. Also, you will need a priest with an Italian citizenship who speaks your language to perform the ceremony.
Catholic church weddings are time consuming and can be complicated to organize but I think most will agree with us that they are totally worth it. For many couples being united in marriage in front of God means everything. Those couples who are not so religious still appreciate the beauty of an antique cathedral and the sublime atmosphere it provides. From a wedding planner prospective, churches make really stunning ceremony venues and often are the best solutions for large weddings. Not to mention the fact that churches and cathedrals are often in privileged positions on a hill top or by the sea which makes your ceremony scenery even more special.
Team Dazzled has prepared a list for you of the top teen catholic wedding venues in Sicily. All of them are TOP LOCATIONS, there is no particular order.
1. A chapel by the castle – Messina
One of our favourite venues – Castle in the Woods
Has its own consecrated chapel, which is very rare and unique in Sicily that a venue has its own consecrated church.
Around 40 guests can be seated inside this chapel, with open doors and chairs placed in front of it you can have catholic weddings for up to 100 guests. After the ceremony guests will only have to walk 50 meters for their cocktail reception and another 50 meters for dinner. All happening in the middle of an enormous forest, with panoramic views of Messina strait. This venue even offers more than twenty bedrooms and suites to accommodate your guests, here you really have everything in the same place: Church – Reception – Hotel.
Click here for the Castle in the woods describtion
2. Cathedral of Monreale – Palermo
This cathedral is one of the largest existing examples of Norman Architecture. It was commissioned by Wiliam II of Sicily in 1174. The Cathedral of Montreal is famous for its fabolous gold Mosaics which cover an area of more than 6,000 square meters. This place is huge, grand and gold. It brings the idea of a royal wedding straight away. Getting married here is like getting married in St Paul's Cathedral in London. Although the London temple can only be accessed by the crowned heads, this beauty is available for all of us. The right place for a dazzling experience and for a grand wedding for over 200 people if you want.
3. Church with a sea view – San Giuseppe – Taormina
Taormina is surely one of the most beautiful towns in Sicily and couples wanting to get married in Taormina are spoiled with choice when it comes to Catholic wedding venues. San Giuseppe's church on Piazza IX Aprile is our absolute favorite. Because it's a beautiful example of Sicilian Baroque. It is also filled with important artifacts from the 17th and 18th century and it enjoys a truly privileged position.
You can have up to 100 guests seated in the church. It's situated in the middle of Corso Umberto (Taormina's shopping street), overlooking a stunning square and with a panorama over Etna and the Giardini Naxos Bay. It's a perfect start to a mind-blowing wedding day. Many gorgeous reception venues are literally a few hundred meters away.
Click here for more information about Taormina
4. The Godfather Church Saint Lucia's – Savoca
When FF Coppola has seen Savoca he decides that this is where he is going to film the Sicily scenes in the Godfather trilogy. Santa Lucia's church is the ceremony venue for Micheal Corleone and his first wife-Apolonia. Stunning temple situated on a hilltop with panoramic views over sicilian countryside was just the perfect location to show the post war small italian town reality.
For more info about The Godfather's filming locations in Sicily and how to use them to create your own Godfather Wedding with up to 150 guests. Click here: Blog post godfather wedding
Click here for the Godfather's villa for your wedding reception
5. Church of Saint Nicolo' – Cathedral of Noto
Rises above the baroque city. The cathedral in Noto was built, like many of the churches in south-east Sicily, as part of the reconstruction that took place after the earthquake that destroyed much of the region in 1693. The building took several decades to complete and was finally finished in 1776.
The facade of Noto cathedral contains a mixture of baroque and classical elements. To the bottom there are eight columns with Corinthian capitals and niches, in the middle is a valuable door in bronze by G. F. Pirrone and at the top you can see two towers; the bell tower and clock tower. This place emanates harmony, peace and majesticity at the same time. No wonder why out of more than 20 baroque churches in Noto, the Cathedral is the top choice amongst couples choosing catholic wedding in Noto. In this cathedral you can host a big wedding with 200 guests or more.
6. Duomo of Acireale
Cathedral of Acireale and Saint Peter and Paul Basilica -majestic temples for big wedding receptions. Main square of Acireale (piazza Duomo) enjoys the presence of not one but two amazing churches. They are real eye candy and the fact that two stunning churches like this are situated one next to another is very unusual. Acireale is a very old and once extremely rich sicilian town. Old people still call it 'salotto di Catania'. When Catania was populated by merchants and all sorts of craftsmen, Acireale was seen as a noble and posh place for the elites. People living here were usually heirs of feudal fortunes. The spirit of old noble Sicily is present here until now and over a hundred churches are reminiscent of the rich past of this stunning city.
Both of those churches are perfect for large weddings. They can accommodate 200 people or more.
Click here for our dazzling selection of wedding venues for big parties.
7. Church of Santo Stefano – Eolian Island Filicudi
Small weddings for around 30 guests deserve a lovely frame too. Santo Stefano is one of the top wedding ceremony venues ever. Not only is it located on a tiny island of Filicudi, it's two hundreds years old and it´s color PINK truly makes it special. Warm pink and peach walls with dark green windows, old school tower with a bell and absolutely nothing around it. It does feel like going back in time. The Eolian wedding dream definitely comes true in this location.
8. Madonna della Rocca – built into the rock – Taormina 
Madonna della Rocca is a medieval sanctuary situated in the highest point above Taormina, half way through between Taormina and Castelmola. This church was built into the rock in 1640 by the initiative of Abbot Francesco Raineri. There is a legend that explains why this place is so special and why the sanctuary had to be constructed in this exact location.
"It says that a young shepherd boy from the nearby village of Mola was feeding the flock on the mountain, when suddenly a storm forced him to take refuge with the sheep in the nearby cave.
While lightning terrorized him and he was about to lose courage, he saw a beautiful lady dressed in blue who comforted him and reassured him that the sun would appear soon.
In fact, the storm ended soon. The parents were worried about the fate of their son, so they ran to go and look on the castle rocks, but they found him cheerfully next to the sheep, who had gathered around him. The boy told him what he had suffered, and what he had seen in the cave.
A lot of people wanted to see the place and they noticed that on the rock, right where the shepherd boy saw the lady dressed in blue, was a figure of the Madonna impressed, which they called Madonna della Rocca."
The church caratarsitic are something rare, walls and roof made of the stone of the cave. Today is a very popular church to visit but also to get married in specially if it is an intimate wedding with 50-60 guests even less for elopements or micro weddings.
9. San Giovanello – Open Church in Ortigia – Siracusa
This is a super popular church loved by couples who want to have a religious ceremony outdoors in a rustic setting. A church that needs to be booked quite long ahead because of its popularity. This is one of the oldest catholic temples in Sicily. The Church of St. Giovanni the Baptist or St. Giovannello (as known in Siracusa). Built on the structure of an early Christian Basilica, dating back to the fourth century. The facade has a portal and a rose window belonging to the fifteenth century and two bell cells – of the two bells we have no longer news. The prospectus, which dates back to 1380, shows elements that are not aligned with each other, due to the frequent and subsequent alterations. Inside the three Latin cross aisles are separated by columns alternating with pointed arches. One of a very few locations that allow you to have a catholic wedding outdoors. The best part is that this church has a plan B, incase of bad weather. The church can hold up to around 100 guests easily.
Click here to find out more about wedding locations in Siracusa.
10. Open Church as a Civil wedding venue – Palermo
Last but not least. We have left something very special to the very end. This place truly is a cherry on top of our fav churches cake. Church of Madonna dello Spasimo is a part of Spasimo Monument Complex in Palermo. The construction of the church and adjacent monastery began in 1509 and it has been approved by Julius II -the pope. Moreover, Raphael was commissioned to paint a scene of the 'Swoon of the Virgin'. Unlike the church itself, the painting has been finished and sold to a Spanish King and now it is held in a museum in Madrid. The church was never finished due to Turkish invasion threat in 1553. The funding was cut and money was directed towards the defence of the city. Regardless of the fact that it's unfinished, this building has some striking features. It's late gothic shape is consistent with building practices in Palermo at that time and reminds of the Spanish occupation.
The lack of roof makes it a perfect venue for concerts and cultural exhibitions during hot summer nights. The best thing about Lo Spasimo is that as of April 2020 it became a civil ceremony venue too, that can absolutely hold up to 100 guests or more.
We are Excited, We hope you are too! Don't wait any longer and contact #teamdazzled for a free consultation regarding all weddings or Sicily related matters.
Contact US @: be@dazzled.it